Golden Technology Corp. was established in December 1994, and has since been engaging in electronic components related business services. With the substantial growth of PC for the past thirty years, the mainstream market has shifted to the various mobile devices such as tablets and smart phones. The next stage of growth in the industry will be an internet generation that contains cloud computing.
Considering this, Golden Technology Corp. began to not only combine world-class suppliers to focus on ecosystem services, but also provide unprecedented, all new business servicing models. In addition, we also offer a variety of demands and solutions to our clients in an advisory capacity.
Vision
To become a Design Service consulting company with the most professional, comprehensive, high quality service in the global market.
Mission
To provide clients with the highest added-value, fastest and most competitive products and services.
Strategy
To combine wireless, MCU, SOC, Sensor, Cloud, software, hardware and 3rd party to provide high-performance and competitive solutions.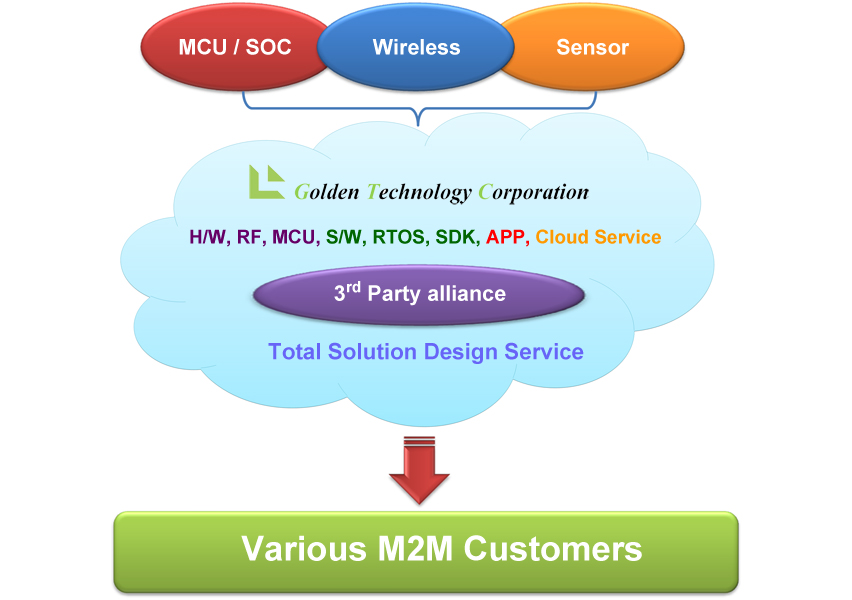 Golden Technology Corp. has tremendous strength, and the most professional integration technology of research and development team in Asia, which provides Wireless, MCU, SoC and Sensor as a complete embedded IOT Design Service, including wireless communication software and hardware, MCU design, mobile software, antenna design, supporting and system integration solution.
We have professional M2M design and integration capabilities to support various platforms and operating systems in order to shorten product development process for clients. Accelerating product launch time to the market and carry out wireless networking applications.
IOT is being considered as a revolutionary a rising star after the smart phone application market. From now until 2025, smart cities , smart grids, automatic controls, smart cars, smart home appliances, long-distance medical instruments, health monitoring and other related peripheral products and applications will be rapidly growing.
Golden Technology Corp. has its very own powerful service team for world-class software and hardware, to provide customers with the most professional, fastest, and most valuable networking products and services to help achieve the brand-new smart life experiences in the future.
Golden Technology Corp. provides SiP IC, PCB Module and other related products. Integrating hardware, firmware, wireless LAN driver and IOT application software, customers can use different modules depending on different needs. In order to speed up research and development schedule and shorten mass production times, achieve wireless connectivity function with minimum of manpower and as fast as possible, customers would be able to enter the market rapidly and create value added products by Golden Technology Design Service's comprehensive wireless solutions.